WATERFRONT ACREAGE
MOUNTAINTOWN CREEK
ELIJAY, GA
AMENITY RICH
6 Miles of scenic River and Creek frontage.
Boating on 3200 acre lake. Golf, Private Fly-fishing, Canoeing, Biking, and White Water Rafting.
POSITIONING
FULLY ENTITLED.
SHOVEL READY.
AHEAD OF THE CURVE AS THE MARKET RECOVERS.
LOCATION
Close proximity to Ellijay locally and Atlanta will attract a wide audience of up market clientele, and bring into play the potential for a resort style community.
SCENIC BEAUTY
The river flowing through the property is navigable on a portion of the tract and flows into the 3200-acre Carters Lake adjacent to the property. Carters Lake has 62 miles of shoreline. The creek, also flowing through the property is wide, fast flowing whitewater with a variety of recreational applications from private fly-fishing to rafting/canoeing. The confluence of the river and creek on this property could easily be considered one of Georgia's most scenically beautiful locations.

Owners Summary.
Cradled in the foothills of north Georgia at the southern end of the Blue Ridge Mountains lies some of the most beautiful land in the Southeastern United States. These rolling hills are abundant with nature's creations: hemlocks, white pines, and ancient oaks thrive among its peaks while rhododendron and mountain laurel spill across its clear streams and waterfalls.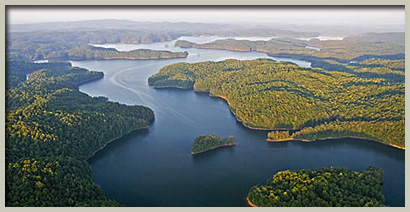 Some years ago, close to Ellijay, one of the four gateway cities to the historic Chieftains Trail in northwest Georgia, we discovered what we believe to be the heart and soul of this picturesque land. Where the Coosawattee River, Mountaintown Creek and Carters Lake come together just west of Ellijay is without doubt an area of outstanding natural beauty. This nineteen hundred and seventy five acres of pristine wilderness so easily reached from Greater Atlanta presented us with a special challenge: it both reaffirmed our connection to nature and demanded of us the need for careful stewardship as we crafted a vision for its future.